Energizing Work
Expansive Horizons
As a part of The MENTOR Network, REM Nevada's employees are part of a growing organization that's been at the forefront of providing community-based care for more than 30 years.  Learn more about our job openings in Nevada and around the country.
Independent Living Services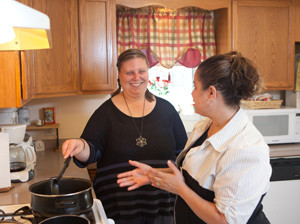 Living independently can be one of life's greatest achievements. Like many of us—who have our own networks of support—adults with intellectual and developmental disabilities may need support to reach their goals. REM Nevada's Independent Living Services assist adults in living independently and provide opportunities to help them shape the direction of their lives.
Promoting Independence and Choice
Program participants in our Independent Living Services—also known as Supported Living Arrangement—learn how to make everyday decisions, such as what to cook for dinner or how to manage money. We encourage the individuals to do as much for themselves as possible, with the knowledge that our staff is there to support them whenever the need arises. Our services build on each person's strengths and help them become increasingly independent. We offer hourly support based on each person's needs in areas that may include:
Cooking
Cleaning
Managing money
Accessing transportation

Shopping
Getting involved in the community
Maintaining health and wellness
Scheduling appointments
The ability to choose our friends, where we live, and what we do for fun is what makes our lives unique. With our Independent Living Services, we strive to help individuals succeed in an environment that they create. We tailor our services to meet the needs and interests of each person and focus on helping them make important everyday decisions.
Ongoing Support for Personal Choice
In addition to personal growth at home, we want individuals to be comfortable in the community. We offer support to help them make friends, spend time with family members, and participate in community events. Our caring staff is committed to helping each person live more independently. We provide hourly support based on each person's needs, and ongoing encouragement to help individuals be successful living on their own.
Reach out to your local office today if interested in REM Nevada's Independent Living Services.